Reliable Pest Control Services For Garden Grove, CA
Garden Grove is a city in the northern portion of Orange County and is in the Los Angeles metropolitan area. We enjoy an abundance of amenities such as theaters, hotels, and restaurants that keep residents and tourists entertained. Unfortunately, our idyllic community isn't without an abundance of pest problems.
Keep pests out of your Garden Grove home or business by partnering with Smart Pest Control to implement year-round pest control services for your property. We understand that every property owner has unique pest control needs, which is why we customize our pest control programs to fit your location, property, and specific pest problem. With the service applicators from Smart Pest Control by your side, you can rest easy knowing that spiders, rodents, cockroaches, stinging insects, and other pests don't stand a chance.
Home Pest Control In Garden Grove, CA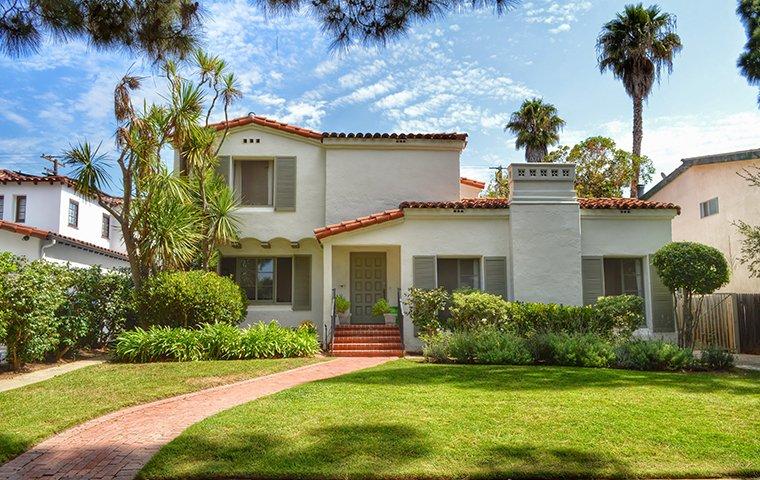 No matter how much effort you put into keeping pests away from your Garden Grove property, your home is never 100% safe from pests. To improve your odds against pest infestations, don't hesitate to partner with the local pest experts here at Smart Pest Control.
We have a deep understanding of area pest problems and how to solve them. If invading pests threaten your peace of mind, you can trust Smart Pest Control to get rid of them in an effective, timely manner.
Our home pest control plans begin with a detailed inspection of your property to identify your pest issue and determine possible points of entry, nesting sites, and pest harborage areas. Then, we will work with you to apply high-quality treatments and prevention services depending on the specific needs of your Garden Grove home.
All of our home pest control plans are completely customizable in order to solve your pest problems efficiently and effectively. Contact Smart Pest Control today to learn more about all of our home pest control options and solutions.
Commercial Pest Control In Garden Grove, CA
As a business owner, you've worked hard to provide the best products and services for your customers and give them a positive experience when they enter your commercial facility. Unfortunately, invading pests can drive away your customers, damage your property, and ultimately harm the reputation of your establishment. To protect your Garden Grove business against pest problems, don't hesitate to work with the applicators here at Smart Pest Control to put into place an effective, year-round commercial pest control plan.
With our licensed pest professionals by your side, you can rest assured that your warehouse, office building, retail store, or other business will remain free of pests all year long. Don't wait for pests to invade your property and start causing problems. Instead, take the smart approach to pest control and reach out to Smart Pest Control today!
Flea & Tick Control Services In Garden Grove, CA
Fleas and ticks are both pests that require the blood of a host to survive. If fleas and ticks get into your Garden Grove property, they can spread many diseases and become a major nuisance. Attempting to get rid of these blood-feeding pests when warm weather arrives is especially challenging. And once fleas get into your home or business, it's nearly impossible to get rid of them without professional help.
Protect your Garden Grove property from fleas and ticks by reaching out to Smart Pest Control. Our flea & tick control services are designed to treat your home and lawn to eliminate current infestations and prevent them from returning. Don't hesitate to contact Smart Pest Control today to learn more about our effective pest treatments.
What Attracts Cockroaches To My Garden Grove, CA Home?
Cockroaches are some of the most adaptable pests in the world and often live in and around Garden Grove properties. There are many species of cockroaches found throughout the United States, but only a few species commonly invade residential and commercial structures. German cockroaches, Oriental cockroaches, brown-banded cockroaches, and American cockroaches are the most common species of cockroaches found in our area.
Most people are aware of the health risks that cockroaches pose when they enter your Garden Grove home or business. In addition to the many diseases cockroaches can spread, they can also trigger allergic reactions and asthma attacks. The best way you can prevent cockroaches from invading your property is by removing factors that could attract them in the first place.
Things that may attract cockroaches to your property include:
Sources of food, such as pet food, crumbs, food items left on your counters, open garbage cans, etc.

Potential entry points, including gaps around your doors, windows, exterior walls, and foundation.

Excess moisture, which is often caused by leaking pipes, broken A/C units, and high humidity.
Cockroaches are dangerous pests, and handling a roach problem should always be left to the professionals. If you suspect cockroaches are living in our around your Garden Grove property, get in touch with Smart Pest Control today for our cockroach control service.

Schedule Your Free Inspection
Complete the form below to schedule your no obligation inspection.